TimeBridge Calendar Schedule Assistant for Outlook

TimeBridge has introduced the first Personal Calendar Scheduling Assistant designed to help busy people find a time to meet — fast. This innovative, new web application works across calendaring systems, companies and time zones.
Check out TimeBridge's innovative scheduler—let's you propose meeting times without flipping back and forth between your calendar. Allows you to select proposed meeting times while viewing your existing calendar events and the availability of attendees.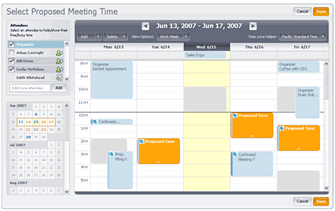 Automatically complete email addresses against your Google or Outlook contacts with no upload or sync required—makes it lightning fast to create meeting invitations.
Let others find times to meet with you. No details are shared—attendees see only blocks when you are free or busy.
Propose the same meeting time to multiple people. Let TimeBridge keep your calendar straight—when one time is confirmed, you automatically become unavailable for other TimeBridge meetings.
See your calendar as you reply to a TimeBridge invitation. No more toggling back and forth between your calendar and the invitation.