OutClock for Microsoft Outlook

OutClock is a java application that displays Microsoft Outlook® appointments using the new SpiraClock visualization technique. All your upcoming events are continuously displayed inside an analog clock on your desktop.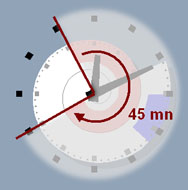 OutClock is directly synchronized with Outlook. So you don't need, as with Calendar Clock, to export your events manually. When you add or remove an event in Outlook, you just have to tell OutClock to update itself. Outlook does not need to be open for OutClock to work.
You can, as in Calendar Clock, customize display attributes (color, fade, overlap, .) for each event category. You can also tell Outlook which events you don't want to be displayed in OutClock.