Personal Folders Backup

Backing up your Microsoft Outlook information is quicker and easier with the Personal Folders Backup feature. Personal Folders Backup creates backup copies of your .PST files at regular intervals, in Outlook 2002 and later versions, making it easy to keep all of your Outlook folders safely backed up.
Each .PST file contains all of your Outlook folders, including the Inbox, Calendar, and Contacts. You can have a single .PST file (usually called "Internet Folders" or "Personal Folders" in your Folder List), but you might also have an additional .PST file that you use for archiving ("Archiving Folders"). Personal Folders Backup lets you back up any or all of these .PST files.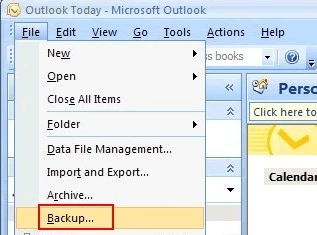 Personal Folders Backup only backs up .PST files. If you have a Microsoft Exchange Server mailbox, your server mailbox folders are likely backed up regularly by your server administrator.
This download works with the following Office programs:
Microsoft Office Outlook 2007
Microsoft Outlook 2003
Microsoft Outlook 2002